MEMO: Terrace East Elevator Safety & Guidelines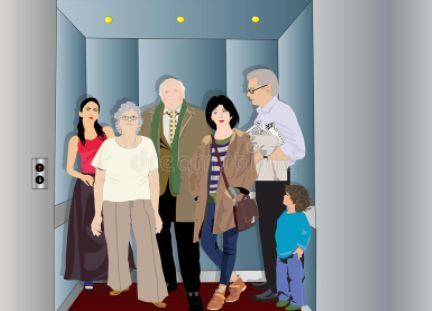 Now that everyone is coming down for meals again we wanted to remind you of the current rules and safety practices for using the elevators. These guidelines will ensure everyone has a safe and enjoyable ride.
Max 4 people in the Terrace East elevator at a time. Up to four people (staff and residents) can be in the elevator at the same time. If the elevator arrives and there are already four people inside please wait for the next one. For the Terrace West elevator the max stays at 2 people.
Please do not push to get in or out of the elevator. We understand that elevators can be slow and sometimes it's hard to wait but it's important to take good care of each other. Shoving can lead to injuries or even a fall and we don't want that. There is plenty of time. Thank you for practicing patience.
Wear your mask. All residents, staff, and guests are required to wear a medical mask in all hallways, elevators and stairways. Please make sure your mask covers both your nose, mouth and chin.
Come down for lunch at 12:00, not before. Remember to wait until 12:00 to come down for lunch so we don't get a crowd gathering in the lobby.
If you have any questions or concerns about using the elevator please let Leonard know (604-851-4006). Your safety and wellbeing is our highest concern.
https://mennoplacelife.com/wp-content/uploads/2021/12/Menno-Outbreak-FB-and-WP-posts.png
788
940
Claire Colvin
https://mennoplacelife.com/wp-content/uploads/2019/03/MPLifeLogoHorizontalTag-300x83-grey-300x93.png
Claire Colvin
2022-01-19 16:34:31
2022-01-20 09:20:41
MEMO: Terrace East Elevator Safety & Guidelines