Zoom Call With Your Loved One in Menno Home
Connect with your loved one in Menno Home via video chat. See below for booking and Zoom call instructions.
The safety of our residents is our highest priority. Changes to this process may happen at any time. 
PLEASE NOTE:
Time slots are available Tuesday, Wednesday and Thursday from 9:30 am-3:00 pm PST (except on STAT Holidays).
Multiple family members can be on the same Zoom call. You can invite other family members to join you on the call with your loved one by forwarding them your confirmation email with the Zoom link. Please share only with those you trust and do not post the Zoom link publicly. We recommend 3 family members max.
All bookings or appointment changes must be made one week in advance.
If you have any questions about this process, please contact Volunteer Coordinator joyce.wiebe@mennoplace.ca
To book a Zoom call, you must know your loved one's Unit and Room Number. If you do not have this information, please contact Life Enrichment Coordinator, Garry.Janzen@mennoplace.ca prior to booking. If a call is booked for the wrong unit, you will receive a notification email regarding the error and you will need to rebook with the correct unit.
Read all instructions carefully.
Below, you'll see four buttons — one for each unit of the Home (East 1, East 2, West 1 or West 2).
Click on the button where your loved one resides.
On the next page, set your time zone and select a time slot that works for you. Click Continue.
Enter your information in the next section. Your full name, email address, phone number, your loved one's name and room number are required. Click Complete Appointment.
On the confirmation page, you will see your booking details. You will also receive an email confirmation. Don't forget to add your booking to your calendar or write it down! Your Zoom call link will also be in this email.
If you need to cancel or reschedule your booking, you can do so through the links in your confirmation email (Changes to your booking must be made one week in advance of your appointment time).
You will receive a reminder email 24 hours before your booking. You'll also find your Zoom link in this email. — Find helpful Zoom information below!
Download the Zoom app on the device you'll be using on the video call, either your phone, tablet, or desktop. Make sure to set this up prior to your booking time so you feel comfortable with the software.*
Download Zoom for ANDROID
Download Zoom for APPLE
Download Zoom for DESKTOP
At the appointed time, click on the Zoom link (found in your appointment confirmation and reminder emails) to join the meeting. This will launch your Zoom app on your phone, tablet, or desktop. No need to enter a meeting id or password!
Next, when prompted, enter your name, and then click "Join with Video" and "Join with Audio"
Make sure your mic is unmuted and your camera is turned on.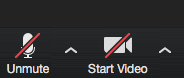 It should look like this this:

Enjoy your connection time with your loved!
PLEASE NOTE: If the call is interrupted for some reason, please stay in the zoom meeting and our staff will attempt to reconnect.
*Menno Place will not be able to provide tech support. Please test out Zoom before your scheduled call and familiarize yourself with it.